Apple has become a status symbol.  Not only because of their price, but also because of Apple's ingenuity and technology. The Apple ecosystem has made it easier for most users to sync their devices altogether with their watch, smartphones, tablets and other gadgets.
So, if one is to buy an iPhone, how do you check if an iPhone is original?  We are going to give you some tips which will help you determine whether the phone your purchased is genuine or fake.
1. Check the Serial Number

Every iPhone has a serial number which identifies it.By looking up the serial number, you can verify whether or not it's in Apple's database. Here's how:
a. Locate the serial number on the iPhone by tapping "Settings," choosing "General" and selecting "About."
b. Scroll down to "Serial Number," and keep the screen open or write down the number.
c. Visit "https://selfsolve.apple.com/agreementWarrantyDynamic.do" and input the serial number. The system lets you know whether or not your iPhone is still within the warranty period. If you receive the message "we're sorry, but this serial number is not valid. Please check your information and try again," it is likely that the iPhone is a fake.
You can also go to https://checkcoverage.apple.com/ph/en/ to check the serial number.
2. Check using the IMEI number
IMEI number stands for International Mobile Equipment Identity. Whenever you buy iPhone, first check its IMEI number. Check the IMEI number of the phone on the product's box.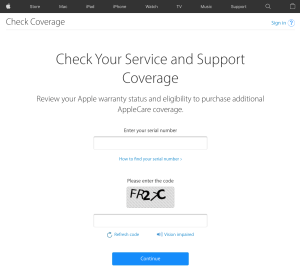 Upon checking, you should be able to see this message, which confirms the iPhone hasn't been activated.
3. Check the iPhone's interface
Keep a close eye on the process of signing in to the phone. This phone is fake if you are asked for Google or any other account details during this period. It's also not an original iPhone if the phone is an Android version.
4. Unable to sync your iPhone
It's possible that an iPhone you buy is a fake if it won't connect to iTunes or isn't recognized by iTunes. Make sure your iTunes and iOS software are both up to date before making this decision. If you're having trouble syncing data between your iPhone and your computer, try restoring it through iTunes. After being restored, an iPhone that does not connect to iTunes or the app store is either phony or damaged.
5. Factory iOs Applications



Apple-branded apps are included with the iPhone, whether they are native or built-in. These apps cannot be deleted unless the iPhone is jailbroken. "Contacts," "Compass," "Settings," "Calculator," "Music," and "Photos" are examples of built-in programs; if any of these are missing, the phone is jailbroken or fake. Entering DFU mode and reinstalling the operating system will restore the original firmware. If native apps are still absent, your iPhone is most likely a fake.
If your iPhone has passed several of these steps, but you still suspect that it's a fake, bring it to your closest Apple store or Apple authorized service provider. A store technician can run diagnostic tests on your iPhone to verify its authenticity or lack of authenticity.
iRent Mo offers brand new, sealed with 1 year Apple warranty iPhone and other Apple units.  iRent Mo also offers same day delivery and nationwide shipping. Check out www.irentmo.com for more details.
References:
https://news.abplive.com/technology/gadgets/iphone-tips-find-out-if-your-iphone-is-real-or-fake-in-5-easy-ways-rts-1494959
https://smallbusiness.chron.com/check-iphone-original