What's the Hype All About with the Nothing Phone 1?
Have you heard of this new Phone model called the Nothing Phone 1? Best described as a futuristic all-in-one device, with a unique design which includes lights on the back panel that illuminates in combinations, called Glyphs interface. We're also curious to know what the hype is all about.
What is Nothing?
"Nothing" is a London-based tech company co-founded by none other than Carl Pei: co-founder of the "Flagship-killing OnePlus brand". OnePlus was known for producing affordable flagship-level phones. They entered the mobile market with the Nothing ear (1) – an airpods-esque wireless earphone with all the bells and whistles you'd expect from an airpods competitor; like good quality sound, noise-cancelling, comfortable and lightweight, and even sweat-proofing. With the Nothing Phone (1), I think Nothing wants to reinterpret what the mobile phone experience feels like — through thoughtful design and a "perfected" user-experience.
Unboxing
Nothing Phone (1) has a unique-looking box. It's quite flat-looking with some awesome details around it. There's quite a heft to it, but not as heavy as other mobile phone boxes. The front with the design elements is quite smooth to the touch while the back is just a tiny bit courser. The back also shows details such as the manufacturing date, QC inspection number, the NTC mark, and the price – which is 29,990 for this model — which comes with 8GB of RAM and 256GB of Storage. Opening the box is done by pulling on the perforated red arrow on top until it's totally peeled off and you can flip the top open. Inside, you can pull out or slide out a small box containing the instruction manual, USB type C charging cable, and the uniquely-shaped sim card tray ejector "pill" (fancy). This is certainly a unique unboxing experience. It's unlike your typical iPhone "lift-to-open" kind of unboxing. It makes you even more excited to actually experience the Nothing Phone (1).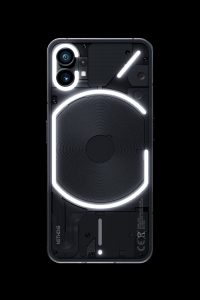 First impression – I have to say, this looks and feels so much like an iPhone. Its size and contours are almost identical to an iPhone 13 Pro Max. But a lot lighter.The buttons are also quite similar to where the iPhone buttons are placed, albeit spaced better and easier to reach, based on how you're holding the phone. The 16 mega-pixel front facing camera is off to the upper left corner, but not all the way to the left. It's capable of 1080p video at 30 frames per second. Now, let's check out the back of the phone. At the back, you immediately see the transparent back plate, the unique Glyph Interface lights, two 50 mega-pixel cameras with an f/1.8 aperture (great for low light) and dual image stabilization. You can record 4K at 30 fps with these 2 back cameras. Before we can check out the Glyph Interface, we have to first turn on the phone. TURN ON PHONE The Nothing Phone (1) runs on the Nothing OS – which is Nothing's skin on top of the Android 12 operating system. It does not come with too much bloat – which is always a great Android experience. It feels similar to the Google Pixel 6a, but with dot matrix font – thanks to the Nothing OS' theme. I think it looks awesome. Quite simple. But easy on the eyes if you're into minimalistic interfaces.
Nothing one with the Glyph Interface.
Now, let's check out the Glyph Interface. If you turn the phone down on any flat surface, the Glyph Interface should automatically activate. It will indicate pre-programmed light notifications to alert you of calls, messages, and other things; as long as it's faced down. You can also use it as some sort of fill light when you're recording a video. It's really bright when you turn it all the way up. Aside from the fancy notification lights and the video recording fill light, I don't currently see any other uses for it. Unless you like the attention you'll definitely get when you're out and about. Anyway, right now, out of the box – the Nothing Phone (1) feels like a solid mid-range phone with some unique attention-grabbing features. It also initially feels easy to use and better than most mid-range phones and probably even compared to some flagships.
References:
https://ph.nothing.tech/pages/phone-1