RENT A WIFI HOTSPOT DEVICE
Starts at ₱

3,495.00
Rent a portable mobile pocket wifi hotspot device; it's pocketable and provides with up to LTE speeds of internet. If you rent a mobile hotspot device from us, we'll include a local Philippine sim card that you can use to connect to the internet. A mobile hotspot device lets you and 2 other people connect to the internet using local Philippine internet connection; you can use it to take care of travel arrangements online during your trip as well as connect online to chat with your friends and family back home. Our mobile hotspot device rentals are already set up; all you need to do is use it. Select the proper duration option depending on your needs.
Phone rentals are also available here.
Return the hotspot device and get up to 50% refund on the rental fee!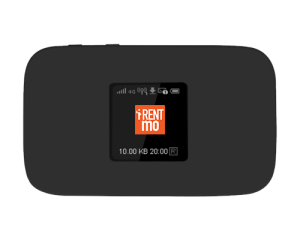 Brand: Smart
Network/Connectivity/Type: LTE
Connectivity speed: 2.4
Maximum Upload Speed: 1-49 Mbps
Maximum Download Speed: 1-99 Mbps
Plug Type: US
Power consumption: 1-500
Input voltage: 12V



INTERESTED? FILL OUT THE DETAILS BELOW
Frequently Asked Questions
What condition are the devices in?
iRent Mo rents out new and as good as new items. Before they are rented out again, they're properly inspected and undergo a detailed quality check, cleaning, and disinfecting. For electronics with storage and operating systems – all personal information left are purged from the system to protect data of the previous user.
When does the rental period start and end?
The rental period starts on the agreed date and time. It then ends after the exact agreed number of days, weeks, or months (counting the day when you received the item). But if you want to extend your rental period, do let us know ahead of time so we can make the necessary arrangements. 
What if my rented device gets damaged during the rental period?
If something happens to your rented device during your rental period, we'll assess the damage and deduct the repair costs from any security deposit provided; for damages that extend beyond the security deposit cost, we'll provide you with a bill provided by a certified repair technician. But for factory-related defects, we won't charge you a dime.
Where do I return my rented device?
We will provide you with a return address or you may just send us the location where you're staying as well as the time that we can pick it up, and we'll coordinate with you about the pickup thereafter.
Can I ask for additional internet or call credits?
Yes, you may request for additional internet or call credits if you need. Just give us a call or throw us a message and we'll remotely add your requested credits.
Great Condition Promise
Every device you rent from iRent mo is in "new" or "like new" condition. Furthermore, we inspect, clean, and disinfect all of our devices so that you can use them worry-free!
Return the Device for a Partial Refund
Simply return a device and we'll partially refund you. No questions asked. The refund amount depends on the item and the package availed.
No Hidden Costs
We won't charge you anything extra. Aside from the additional delivery fee (depending on your location here in the Philippines), everything you see on our posting is all you need to pay.
Operating Hours
Mon – Fri: 9am – 5pm
Sat: 9am – 5pm​​
Sun: 9am – 12pm