Are you looking to rent an affordable PC for your online work or online school? Do you have a need for a computer for an interview? A work presentation? or for temporary home use? Need to start working but you currently have no funds to buy a new computer?
Since the pandemic started, a lot of things changed especially with regard to work and studies. Many employees have been given telecommuting credits, which allows them to work from home. Companies were able to identify that some work can actually be done at home. Employees are given more autonomy on how they can finish their work from home. Out of those who recently lost income, over 60% of those affected began working from home.
Since children are not allowed to go out, schooling has transitioned into online school. A lot opted for homeschool option, while different types of modalities were incorporated in online schooling. Kids are able to take their classes using a tablet, a cellphone, or a computer.
The emergence of the sharing economy has allowed for equipment rentals. Luckily, there are local companies which allows peer to peer renting or laptop rentals for personal use.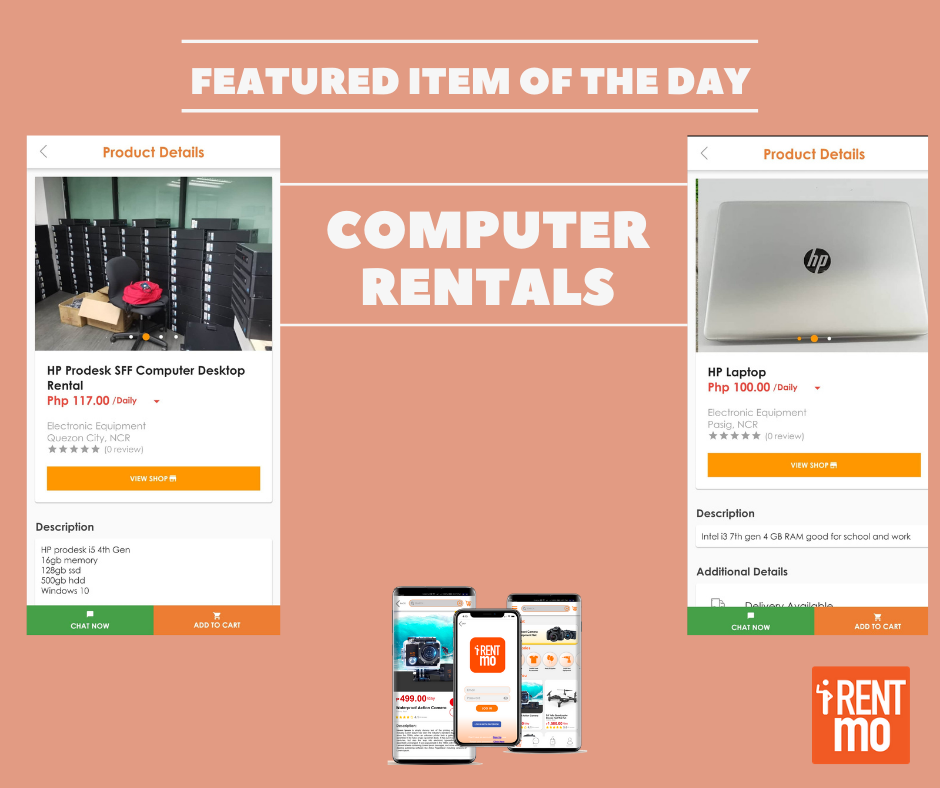 iRent Mo Offers computers and laptops for rent for your homebased work or online schooling needs.
Since the demand for computer rentals are at its peak, there are several companies which offers computer rentals.
iRent Mo offers desktop computers and laptops for your short-term and long-term use, that can be delivered right at your doorstep. Choose the computer unit depending on the specifications you need. Computer rentals are available for personal use or for business needs.  Rent in as short as 1 week, to longer rental terms of up to 12 months. iRent Mo have computers for online schooling set-up, for work, which can process multiple spreadsheets and video editing and for mid-gaming. Renting a PC has never been this easy.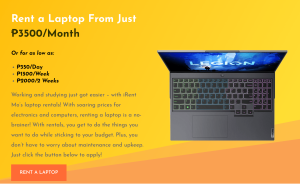 Because many are still unable to afford to buy a computer, aside from computer rentals, iRent mo also offers a rent to own program which allows you to rent a computer and own the unit after a couple of months. This way, you can invest in a pc, without breaking the bank.

How much is it to rent?

iRent Mo's PC rental fees vary from Php 2500-4500 a month, depending on PC specs. They also offer daily and weekly rates, depending on your needs. You just need to submit the requirements such as 2 Valid Ids and 1 Proof of Billing. A security deposit will also be required before you can rent.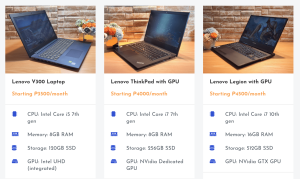 You also have an option to rent it onsite thru their co-working space partners.  If you're in Manila, try visiting The Hashlab Cafe, where you can avail of iRentMo's laptop rentals for as low as P25/hour.  Visit their page here.

Fill out this form or reach them through or facebook page or their website at www.irentmo.com, and start renting today! 
References:
http://investinginwomen.asia/knowledge/impact-covid-19-employees-philippines-may-2020/