Ryzen 3 3200G |16GB RAM, 24″ IPS LED
This Ryzen 3200G Set is completely brand new. This set includes 16GB of Crucial Ballistix RGB DDR4 RAM for more power! It even comes equipped with a 24″ IPS LED monitor for all the eye-candy that you're going to be looking at. Work and Play has never been this good. With the Ryzen 3 3200G, you're always at your best!
Note: Orders take approximately 3-7 business days (depending on queue) to build the system.
[vc_row][vc_column][vc_custom_heading text="Ryzen 3 3200G |16GB RAM, 24″ IPS LED
" font_container="tag:h1|text_align:left" google_fonts="font_family:Roboto%20Condensed%3A300%2C300italic%2Cregular%2Citalic%2C700%2C700italic|font_style:400%20regular%3A400%3Anormal"][vc_column_text]Ryzen 3 3200G Set with 16GB Crucial Ballistix RAM, 24" IPS LED FEATURES: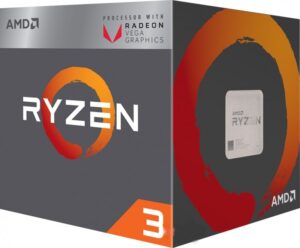 RYZEN 3 3200G 16GB RAM Computer Set (BRAND NEW)
Ryzen 3 3200G QUAD CORE CPU
ASUS/GIGABYTE/ASROCK/MSI A320M PRO-E Motherboard
Radeon Vega 8 Graphics - Integrated
16GB Crucial Ballistix RGB 2x8GB DDR4 3200MHz RAM
RAMSTA/DATO TEK 120GB SSD
500GB HDD
JUMBOFAN 700W PSU
Keytech or Darkflash Aquarius Gaming Case
NVision/YGT/Fuzion/Viewpoint 24" IPS LED Frameless Gaming Monitor
FANTECH K613L GAMING KEYBOARD
FANTECH G13 RHASTA GAMING MOUSE
Headset with LED
7 Pcs LED Fan
[/vc_column_text][/vc_column][/vc_row][vc_row][vc_column][/vc_column][/vc_row]
Only logged in customers who have purchased this product may leave a review.