Yoobao EN1 42000mAh Portable Power Station
Yoobao EN1 42000mAh Portable Power Station
Don't let power outages get your productivity down. Take charge, and stay comfy with the Yoobao EN1 Power Station with 42000mAh capacity. Able to power any gadget, computer, and even household appliances with its 150W capacity and built-in 220V inverter. It's able to fast charge any of your mobile devices as well and also has built-in emergency lights to light up your darkest nights!
Yoobao EN1 42000mAh Portable Power Station
Specs:
Model:EN1
Battery Power:155Wh(TYP)
Battery Capacity: 42000mAh/3.2V
Size: about 81*81*277mm
Weight:about 1.7kg
Total Input Power:45W
USB-C Input::DC 20V-2.25A / 15V-3A / 12V-3A / 9V-3A / 5V-3A
Total USB Output::45W
Type-C Output:DC 20V-2.25A / 15V-3A / 12V-3A / 9V-3A / 5V-3A
USB-A1/A2/A3 Output::DC 12V-1.5A / 9V-2A / 5V-2.4A
AC Output::220V~50Hz 150W
Power of Light:1W
Features:
Built-in 220V inverter - which can provide energy to home appliances
Anti-electric shock protection
Independent power-off switch for safety
150W capacity can charge any gadget, computers, and even full-scale home appliances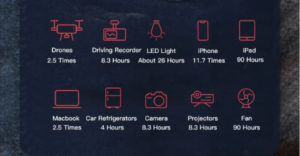 PLS NOTE THE FOLLOWING (IMPORTANT!!!):1, The power of the AC output port is 150W. The power of electrical appliances used through the AC port should not exceed 150W, and some devices with high instant start power are not applicable (such as curling irons, electric heating rods, disinfection lamps, hair dryers, etc.)
Only logged in customers who have purchased this product may leave a review.