Are you planning to purchase a large-ticket item? If you're like the majority of people, you're constantly looking for methods to save money. One of the most critical is to make sure you're getting the finest bargain possible on every transaction, big or small.
I myself, is always on the lookout for deals where I can make the most out of my hard-earned money. It's not true that having a credit card only allows you to live in debt.  As long as you know how to use it wisely, you can make credit cards work for you.
A 0% interest installment plan is a form of payment plan that allows you to pay off your item over time without incurring additional interest charges. If you need a little longer time to pay off your purchase or don't want to pay any extra interest, this is a fantastic alternative.
While there are a lot of different credit card issuing bank in the Philippines, finding the right card could be the key to getting that installment plan.  What if my credit card doesn't offer a good installment plan as the other credit card company? I don't need a lot of cards.  I just need some which I can use in case of emergencies.  Worry not, iRent mo offers credit card installment for all types of credit cards, as long as it's accredited with Visa and Mastercard. What's more, it's at 0% interest.
iRent Mo offers credit card installment at 0% interest through Atome
Atome is a leading buy now pay later brand in Asia. Atome believes in empowering shoppers to afford products and services over time. At a deeper level, it's also an immediate call to action to own one's deepest passions and aspirations.With flexible interest-free payments, personalised controls and a commitment to develop best-in-class features, we empower our users to own their passions in their own time.

With Atome, you can get a headstart.

– Split your purchase into 3 interest-free installments.
– No interest charges or hidden fees, ever.
– 100% online processing of application.
– Up to 3 months of installment term.
– Available for Visa and Mastercard credit card holders.
How to avail?
1.Just go to www.irentmo.com and choose the item you want to avail.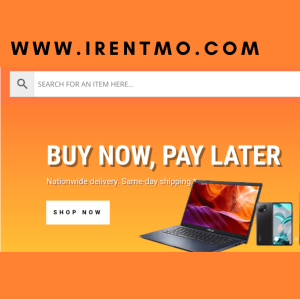 2.Upon checkout, choose Atome as the payment method.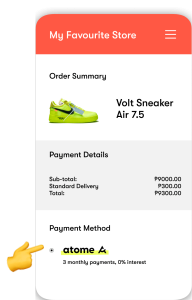 3.The system will direct you to the Atome app where you need to register. Once approved, you will be redirected to the iRent Mo store to check out the item availed.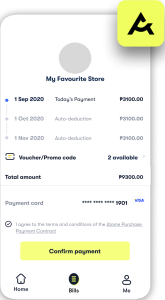 4.Once finished, iRent Mo will now process your order and ship the item/s availed.
A 0% interest installment plan is a terrific method to pay for large purchases without having to pay for them all at once. The goal behind this sort of financing is to allow you to buy products and pay for them over time with smaller monthly payments rather than paying for them all at once.
When adopting the 0% installment plan, you must, however, manage your finances carefully and develop self-discipline. Just because there isn't any interest doesn't mean it's always good for you. Remember to only purchase products that you believe you can afford.
References:
https://www.moneysmart.ph/articles/zero-interest-installment-plans-philippines/
https://www.atome.ph/how-it-works