There has been a recent surge in the amount of cases of Covid-19 in the country. Because of this, oxygen supply has become very important. Because of the surge of critical cases and the lack of facilities to accommodate the sick, some patients are asked to get treatment from home. Oxygen tanks and oxygen concentrators help supply oxygen to patients who are unable to get enough oxygen into their bodies on their own. Oxygen Tanks and concentrators are designed to deliver oxygen to patients at home, on the go, or who are being transferred between medical sites.
What's the difference between an Oxygen Tank and an Oxygen Concentrator?
Oxygen Tanks are metal tanks containing a fixed amount of pressurized oxygen. To use these tanks, a line of tubing is connected to the tank at one end and then to a nasal cannula or oxygen mask at the other. This allows the oxygen in the tank to be delivered directly into the patient's nose. Personal oxygen tanks are typically mounted on a trolley or that allows them to be easily transported by the patient or a caregiver.
Oxygen concentrators, on the other hand, are machines that collect oxygen from the surrounding air, concentrate it, and then deliver it to the patient, removing the need for replacement or refilling. It comes in different machine sizes and types. Portable versions can range from 1L, 5L and 10L and heavy duty concentrators can work 24/7.
How do you know which of these 2 should you choose? Here are the Pros and Cons below: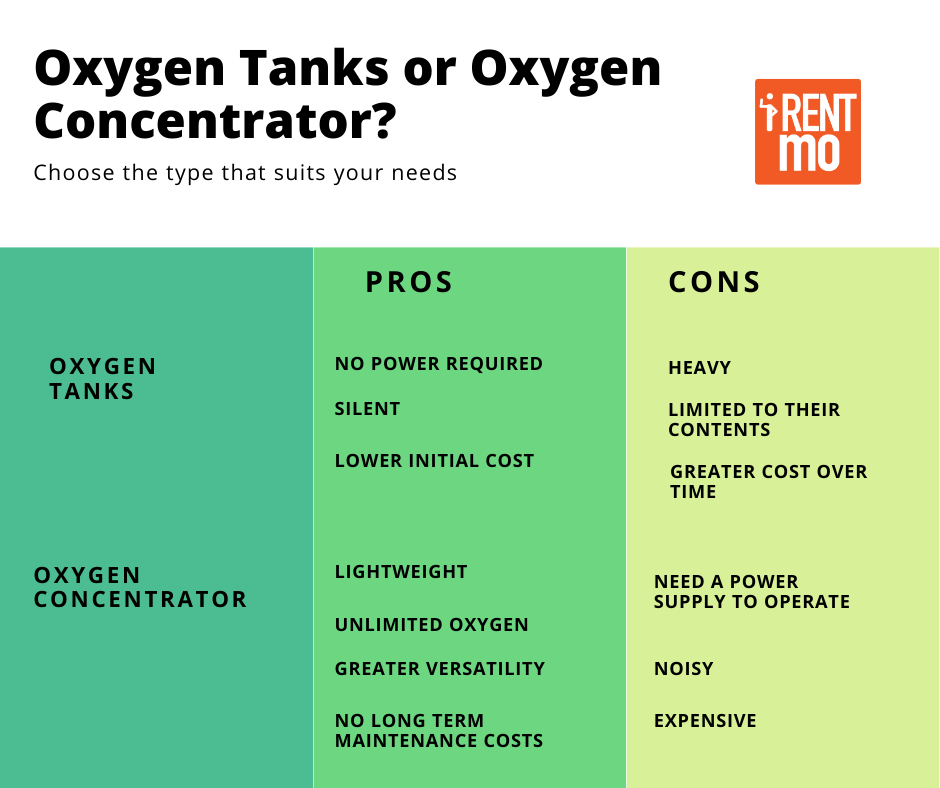 Oxygen Tank Cons
1. Oxygen Tanks are Heavy
To start of, Oxygen Tanks are heavy. Tanks may be difficult to move around and transport when refilling.
2. Limited to their contents
Oxygen tanks can be bought in 5lbs, 10lbs, 15lbs, 20lbs and 50lbs tank. Since you cannot afford to ran out of oxygen, you need to have a spare tank handy.
3. Greater cost over time
Oxygen refill is cheap. A 50lb oxygen tank refill is only P750. However, you have to factor in the transportation costs involved. You also need to be buying your own oxygen regulator, which costs around P1200-P2500.
Oxygen Tank Pros
No Power Required
You don't have to worry about power interruption. Use an oxygen tank whenever, wherever.
2. Silent
Oxygen tank has no machine sound. Giving you a peaceful rest while recovering.
3. Lower Initial Cost

Oxygen tank upfront costs are cheaper. Depending on the weight, it could range from Php3000-Php8000.
Oxygen Concentrator Cons
Need a power supply to operate.
Unlike oxygen tanks, an oxygen concentrator needs to be plugged in to a power source. We advise oxygen concentrator users to keep a back-up power source, or an oxygen tank, just to be sure.
2. Noisy
There's humming machine like sound in using an oxygen concentrator. Like any other medical equipment, the sound may take getting used to.
3. Expensive
I remember seeing oxygen concentrator prices between Php10,000-Php20,000 pre-covid. Because of the high demand, price sky-rocketed from Php20,000 for the portable 1L brands, up to P50,000 for 5L-10L heavy duty machines. You may want to check on extra features also as there are models that comes with a ventilator feature.
There are different brand and models available in the market. Make sure to do your research before buying one. Make sure to buy from a credible supplier too!
Oxygen Concentrator Pros
Lightweight
Compared to oxygen tanks, oxygen concentrators are lightweight. It's also easy to transport. There are also some units that has a built in wheels, making it easier for the machine to be moved around the room.
2. Unlimited Oxygen
You don't have to worry about running out of oxygen supply. 5L and 10L heavy duty machines can be used 24/7. Smaller 1L unit machines can be used in 6-8 hour straight, allowing it to rest, before being able to use it again.
3. Greater Versatility
Aside from producing oxygen, some oxygen concentrator models comes with a 2 in 1 function. It can also be used as a ventilator for asthma cases. You may want to check on other features as well, depending on your requirement.
4. No Long term maintenance costs
It's shockingly easy to maintain a portable oxygen concentrator machine. The main filter, depending on use, can be changed at least once a year. The unit can be cleaned with just soap and water. It is advisable to wash the side and back filter every month, to ensure a healthy flow of air. Just make sure to cover when not in use.
Nasal cannula can be bought for just Php30.
Oxygen Tanks and Oxygen Concentrators can be bought at the different medical supplies shops in the Metro. Here are some of the shops where you can avail of them:
Oxygen Tank vs Oxygen Concentrator and where to buy them
Oxygen Support:
High Flow Nasal Cannula; Denise Camille (Health Solutions) – 0917 8201914
Oxygen Tank Rentals:
Caloocan Gas Corporation – 0943 7055096, 0933 6111645, 87120058 (loc 108), 89264790, 84263473, 34551267, 34551238
Linde Corp (Formerly CIGI) – 88635300, 88635388
Oxygen Concentrators:
iRent Mo also offers Oxygen Tanks, Oxygen Concentrators and other Medical Supplies which you can avail in cash and rent to own. You can contact them thru their mobile at 09395056914
Sources: http://www.rehabmart.com/post/oxygen-tanks-vs-oxygen-concentrators-x-tips-to-help-you-choose