Where to Rent Laptops in the Philippines
The pandemic has forced all of us to shift to a working environment online. This could be no big deal for some people, but to the lower-class Filipinos, this is a challenging adjustment. There is news everywhere about how students from lower social-economic classes have been coping with the new online environment.
The Need for Laptops or Computers for Online School
For example, we have Twinkle Claire Agraviador, a tenth grader. She expressed that her public school offers modular learning for those who do not have internet access at home. Modular learning means being handed out printed modules instead of the usual online classes. This may seem like a good alternative; however, some subjects still require research to be done online.
According to Twinkle, online learning has been especially difficult for her since her parents cannot afford to buy her a mobile device or laptop. Because of her lack of resources, she is forced to go to a computer shop to do her school work online. In her area, using the computer shop costs 50 pesos. This is already a lot of money for lower-class citizens. 50 pesos can be spent to buy other basic necessities as well, like a kilogram of rice for the family.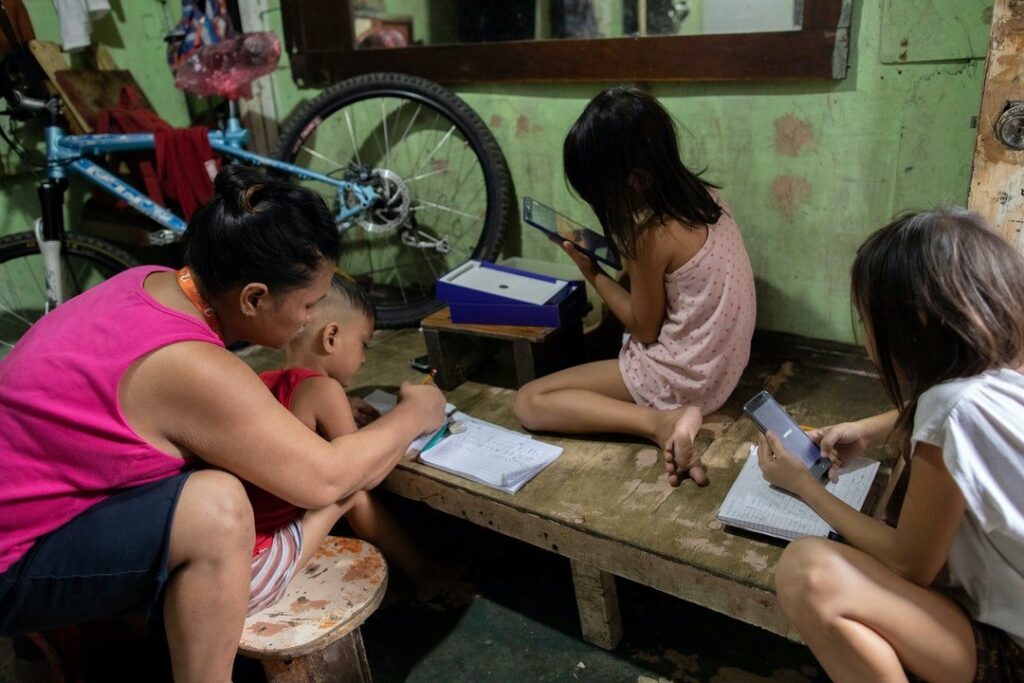 Twinkle's situation is not uncommon. Many kids in the Philippines actually have a similar story as her. Some kids even go as far as killing themselves because of too much stress or for fear of being a financial burden to their parents during the pandemic.
The Pandemic Affects Both the Poor and the Rich
It's difficult to find a solution that can help all of our problems. Everybody has their own struggle during this pandemic, one way or another. Even more, well-off Filipinos are having a difficult time. Aside from the bad internet connection in the Philippines, the middle classes combat the challenges brought about by the high requirements needed for work-from-home and online schooling setups. Add to this the mounting pressures from businesses shutting down and jobs getting cut. Everyone is affected; but some, more than others.
It's important to prioritize those who need help the most. To help the lower-class Filipinos, the bare minimum would be to provide them with the necessary resources that they need to survive online classes. Many have been going to computer shops, but as said earlier, this is expensive for them. One solution would be to rent devices feasible for online learning.
Here are some places where you can rent a laptop (and other devices feasible for e-learning):
1. Computer Rental by ROG Home
ROG Home offers a complete PC set-up that includes a monitor, CPU, mouse and keyboard. You can pick-up the PC set-up yourself or have it delivered to your doorstep. Price is at 3,000 pesos a month, minimum of 1-month rental.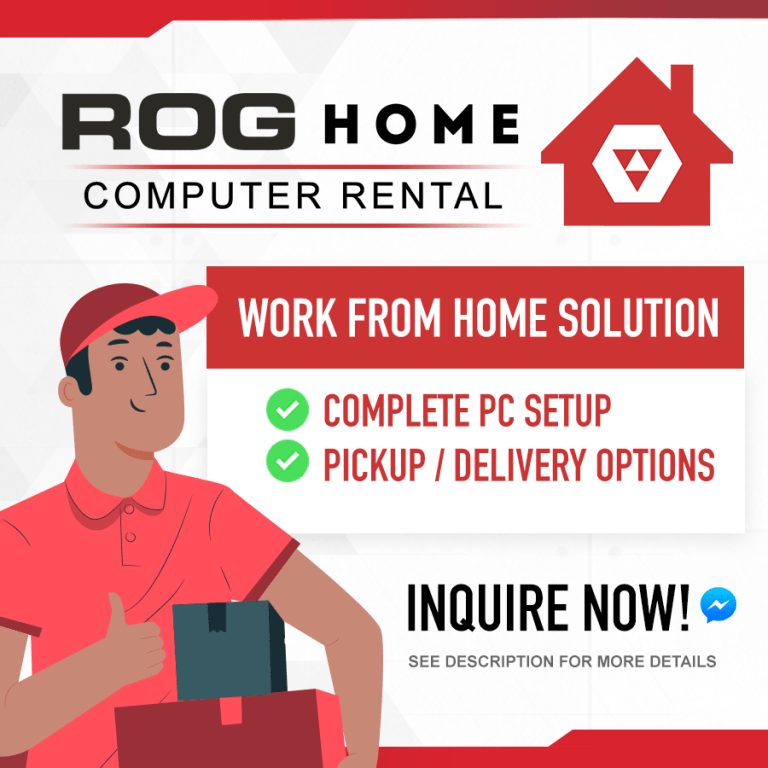 You can contact them through the following:
2. Computer, Tablet, and Cellphone Rentals by iRent Mo
iRent Mo is an e-commerce store where you can rent or rent out anything under the sun including devices such as tablets, computers, and cellphones. They have a variety of different models at reasonable prices. They offer short-term and long-term rentals and cater to personal and corporate rentals.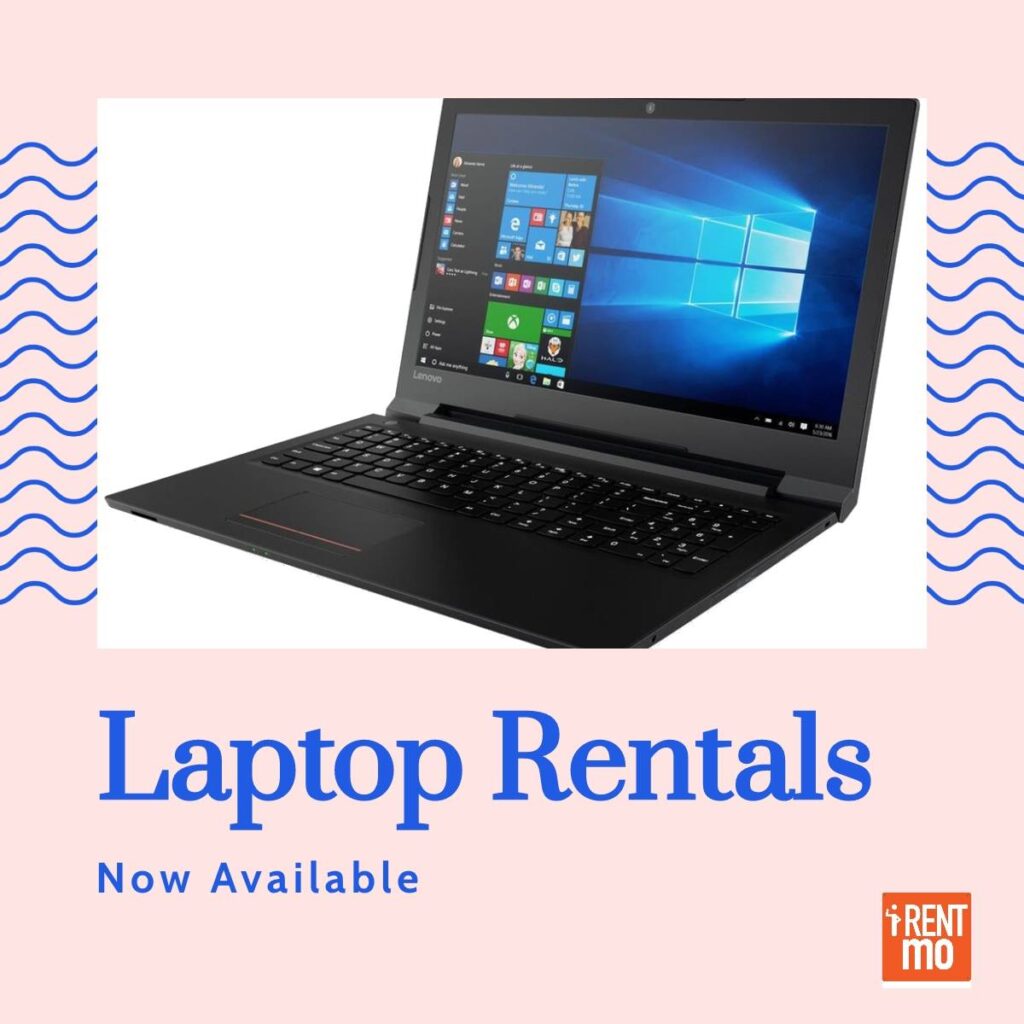 You can contact them through the following:
You can also download their mobile app on Android or on iOS.
3. King Kong Corp
King Kong Corp is one of the longest and largest running suppliers of IT and computer equipment in the Philippines. They offer a variety of technology to rent such as desktops, laptops, netbooks, monitors, hardware, gaming, networks, and other electronic accessories. King Kong Corp also provides a good range of different brands like Acer, Dell, Asus, and Apple. They import products from abroad as well.
You can contact them through their website.
If you are not looking for laptops to rent but instead are looking for places where you can help out and actually donate or lend your laptop, here are some places where you can do so:
1. Ladiyawan Youth in Government
This initiative was in partnership with Kaya Natin! Movement for Good Governance and Ethical Leadership; is an NGO lead by public servants and involved citizens who advocate for good leadership in the Philippines. As well as the Office of the Vice President's Bayanihan Para Sa Distance Learning. It aims to support Community Learning Hubs for the students of Taytay, Rizal, and Himamaylan City, Negros Occidental.
The Community Learning Hub is an initiative by the Vice President and has currently helped over 2,000 communities that have lacked the resources for online learning. The learning hubs offer necessary equipment for free such as gadgets, internet, tutors, and more.
You can contact them through the following:
2. Street to Schools
Streets to Schools is a youth organization that helps street children by building on the UN Convention Rights of A Child and the Global Goals for Sustainable Development. Their initiative was to hold a donation drive for secondhand devices used for online learning such as laptops and tablets. They also accepted devices that were broken so that they could fix them and put them to good use. Their goal is to collect a total of 300 tablets for children.
You can contact them through their Facebook page.
3. One Gadget One Child
One Gadget One Child is an initiative that started because of a local from Cebu City named Menchie Hermosisima. She made this donation drive also to help students by handing them the unused or secondhand laptops, tablets, and smartphones of other people. There are drop off points around Cebu City if you would want to support this cause.
You can contact them through their Facebook page.
4. Ayala Foundation and PIOPIO
PIOPIO is a local fashion brand that started as a fundraiser for the kids of the Ayala Foundation. To support this cause, you can purchase what they have called "donation tickets" on their website. The tickets are priced from 200 to 20,000 pesos. The money earned will be used to buy e-learning tools for students so that they can better adapt to online classes.
You can find out more about them through their Facebook page.
5. The Landas Organization
Landas is an NGO that strives and advocates for quality education for all. They have a project called Kapit-Bisig which is in collaboration with the Aksyon ng Kabataan Organization and Kinabookasan. Their aim is to provide 300 students of all ages, kindergarten to college, with educational materials suitable for online learning. Their beneficiary is the Homeowners Association of Meralco relocates, Inc.
You can contact them through the following:
It's the Best Time to Help, and the Rental Economy is Currently a Good Method to Do It
During these times, it is important that we try and help one another. It is also good to make do with what we have. Renting is a good alternative for those who cannot afford to own their own devices. It's good that there are different options for us available to do so. More importantly, we should be encouraged to donate our devices as well so that no Filipino will be left behind when it comes to learning.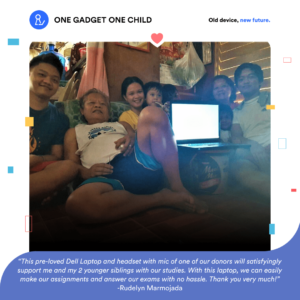 We should not just stop at devices but we can continue to donate other things such as basic necessities that they might need during this time as well. It's always good to show some kindness to others. Encourage others to donate by sharing this post! Or help someone in need of a device for rent by sharing as well!

Want to see more computers for rent? Find things to rent at the iRent Mo app. If you have an existing rental business or if you want to make money out of your rental items, just download the app via the Google Play and the Apple Store and start earning from your rental items!
Sources:
Dollanganger, Coco. "Philippines: The Rich and Poor Divide in Distance Learning." The News Lens International Edition, 22 Dec. 2020.
GMA News Online. "Over 2,000 Students Benefiting from Community Learning Hubs -OVP." GMA News Online, GMA News Online, 26 Nov. 2020.
Mia RodriguezAug 8, 2020. "10 Places Where You Can Donate Your Old Gadgets to Students in Need." SPOT.PH, 8 Aug. 2020.
Suacillo, Gela. "These Organizations Are Making Online Learning Possible for More Students." NOLISOLI, 7 Sept. 2020.